Morocco keeps exploring and marketing its uranium potential in Western Sahara, despite the fact it is in violation of international law.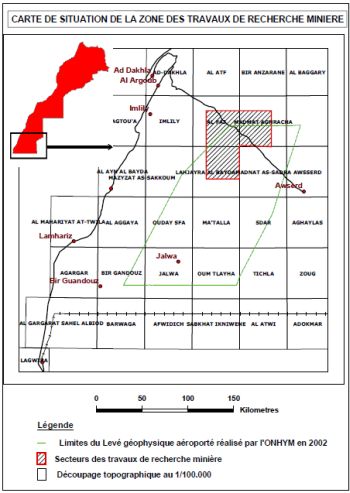 Morocco has never asked representatives of the Sahrawi people whether they in fact wish a development of the potential uranium deposits in Western Sahara. Despite of this, Morocco keeps exploring for the resource in the territory that it brutally occupied in 1975.

A report from March 2010, "Minéralisations d'uranium et terres rares dans les Provinces de Sud", goes further into detail of the uranium findings Morocco has made in the territory. The photo above appeared in the report, detailing the work done in Glibat Lafhouda, in southern parts of the territory, not far from Awsserd.

Some of the information was published in a report September 2009.

"Several foreign firms are in negotiations with ONHYM for the signing of exploration and development agreements", according to the new report, which later states that firms only have "shown interest".

The explorations were made in 2008, based on airborne aeromagnetic studies carried out in 2004. The drilling equipment was transported to the Glibat Lafhouda probably after a public tender issued by ONHYM in 2008.

According to the UN, exploration of natural resources in Western Sahara cannot take place if the Sahrawis are not consulted.