Morocco cannot claim tariff preferences for agricultural products coming from Western Sahara on the basis of the upcoming EU-Morocco agricultural agreement, says Dutch Minister for Foreign Affairs, Uri Rosenthal.
"The agricultural agreement between the EU and Morocco, which will enter into force this autumn, is solely applicable to the territory of Morocco. Therefore, Morocco cannot claim tariff preferences for products from Western Sahara on the basis of said agreement. The Dutch customs will monitor this", the Dutch Minister of Foreign Affairs stated on behalf of his Cabinet and the Cabinet for Economic Affairs, Agriculture and Innovation.
Replying to questions from the socialist parliamentarian van Bommel (SP), the Minister further stated that the label 'Morocco' was indeed misguiding and that it is absolutely possible that products from Western Sahara carrying that label can be found in Dutch supermarkets. Download the
Dutch statement here
, or
from the Dutch government webpages
.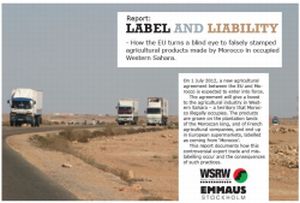 The statement is in line with other non-EU governments, such as Norway, Switzerland and the US, which all underline the obvious fact, that Western Sahara is not part of Morocco under their respective trade agreements with the Moroccan kingdom.
The WSRW report
'Label and Liability',
published in June 2012, had already revealed that Dutch supermarket chain Albert Heijn imports cherry tomatoes from Dakhla, located in the south of occupied Western Sahara. The tomatoes are claimed to be originating from 'Morocco'.
The Netherlands do not recognize Morocco's self-proclaimed sovereignty over Western Sahara, and the Dutch government
asks companies to abstain from investing in the territory.