San Leon in September purchased PetroMaroc's ownership in the so-called Tarfaya oil block, partially located in occupied Western Sahara.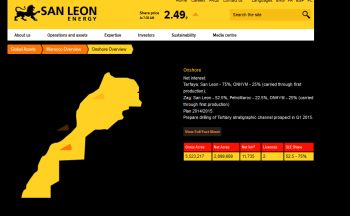 On 6 September 2014, UK company San Leon Energy bought the 22.5 percent interest on Tarfaya block previously owned by the company PetroMaroc. The news was published
on the webpages of San Leon
.
The Tarfaya block is located on both sides of the internationally recognised border between Morocco and Western Sahara, including covering the area around the Western Sahara capital city El Aaiun.
The company's partnership with the Moroccan government proceeds on the south side of that border even though it is clearly in violation of international law, as
described by the UN legal office
. Morocco has illegally occupied this part of Western Sahara since 1975.
The Western Sahara Resource Watch report
Platform for Conflict
mentions on page 8-9 the overview of blocks in the territory. The reference to Tarfaya block in that report is thus not correct. The correct now is that San Leon owns 75% of the block, ONHYM 25%.