WSRW's repeated questions on the organisation's structure or financial backers for the contested event on occupied land remain unanswered.
For the second year in a row, the peculiar Crans Montana Forum (CMF) will host a conference in occupied Western Sahara. From 17 to 22 March, CMF's South-South Cooperation will take place "under the high patronage of his majesty Mohammed VI, king of Morocco", in a territory that is largely under illegal military occupation by that very same monarch.

On 15 February 2016, WSRW for the fourth time asked CMF to clarify who funds the event in Dakhla, who is on the Board of the organisation, and who in Switzerland owns and/or manages Crans Montana Forum S.A.M. Because those things are far from clear.

Avoiding media attention
The scarce information that is available about Crans Montana Forum leads to more questions than answers. CMF appears as a most unusual international organisation that brings together world leaders to discuss current issues in international politics. CMF presents itself with an aim to contribute to "a more humane and impartial world" and as "the most influential and prestigious think-tank in the world working in the discretion, at the highest level and far from publicity and mediatization". "The Forum's Organisation nor its Board Members for 32 years have never been involved in any business interest. It has always been the guarantee of its independance and credibility. This success and this ethics made some jealous! They deserve no interest", the CMF website reads (emphasis in the original).
The Forum's website showcases the organisation's connections to the rich, powerful and famous of the world, revealing its true nature as an international networking club - a club that has had a tradition of not discriminating against dictatorships and brutal regimes.

What Crans Montana Forum's webpage, blog or social media outlets do not reveal, is the true nature of this organisation; who runs CMF, where it is registered, who sits on its Board, how is it funded, etc.

CMF presents itself as being "Swiss owned and managed" international organisation or simply a "Swiss Non-Governmental Organisation". This claim doesn't seems to be correct. WSRW has identified two Crans Montana Forum entries in the Swiss company registries - one in the Canton of Geneva, the other in the district of Sion. Those companies were cancelled in 2002 and 2006, respectively.

But the organisation is indeeed registered in Monaco, a tax efficient jurisdiction on the French Riviera.

In 2015, Crans Montana Forum used to identify four leaders on its webpage, without however providing any biographical information on any of them. The four were;
- HSH Prince Anton von und zu Liechtenstein, Honorary Chariman of the Board (Fondation du Forum Universale),
- Pfr. Daniel Warner, Chair, Advisory Board (Crans Montana Forum)
- Mr. Jean-Paul Carteron, Founder (Fondation du Forum Universale & Crans Montana Forum)
- Mr. Nicolas Buzaianu, Founder and Executive Chairman (Council on World Public Affairs CWPA)

It is not known whether these four have had board positions. If they did, then CMF's assertions that its board members have had no company background is incorrect.

The latter, Nicolas Buzaianu, is no longer to be found on the website. Buzaianu is mentioned by a team of investigative journalists in Romania as "one of the most controversial characters in the Romanian power market". Read about Buzaianu's involvements in that corrupt sector, and the scrutinies by the Romanian National Anticorruption Directorate here. The scandals surrounding Buzaianu and the energy sector continued long in to 2015 all over Romanian media. Buzaianu has also surfaced in Zambia where his lawyers were said to threaten to sue the government of Zambia for an amount of 100 million dollars (or 0,3 % of Zambia's GDP) after his name was associated to bars of gold missing from the vaults of the Drug Enforcement Commission. Other information available on Buzaianu creates the image of the archetypical businessman turning philantropist. Buzaianu was on the webpage of Crans Montana on 10 March 2012, 26 October 2013, 26 June 2015, but is not there today.

The man running the show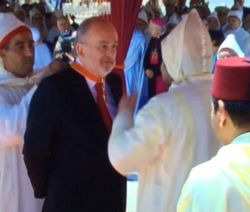 Up to 2015, Jean-Paul Carteron acted as President of the Crans Montana Forum, a position he has now left to Pierre-Emmanuel Quirin. But Carteron remains at the core of the organisation's activities - as is evident by the endless collection of photos on both Carteron's blog and the CMF's website, depicting Carteron side-by-side with international personalities.

There is very little information available on Mr Carteron. Notable exception is the blog maintained by Robert Eringer, the founder of the Monaco intelligence service. Eringer currently lives in Santa Barbara, and has published about Jean-Paul Carteron in the Santa Barbara press in December 2008 [or download].

Eringer writes about Crans Montana Forum's founder: "Carteron left Paris in 1981 to work for "Papa Doc" Duvalier and wound up looking after the Haitian dictator's corrupt fortune. He carried on with "Baby Doc," facilitating real estate deals along the French Riviera. The Duvalier dynasty was brutal and murderous--and the beginning of Carteron's own fortune. After bloodying his hands with both "Docs," Carteron--in 1989--created Crans Montana Forum in Switzerland and re-styled himself as "humanitarian." His forum provided respectability for brutal, corrupt regimes in Africa, from which Mr. Carteron personally profited. The Swiss, by 1996, suspected Carteron of laundering money and requested he move his forum elsewhere. He took it to the Principality and re-named it Monaco World Summit, creating the erroneous perception among foreign governments that his private entity was a Monaco institution. Then, mixing with representatives of the world's smaller nations, Carteron became a broker. Not stocks and bonds. Carteron brokers honorary consulships to Monaco. His going rate is 50,000 euros. Prince Albert knew about these unethical antics, but rather than point the door to Carteron, His Serene Highness designated him co- fundraiser for a pet project called "Peace Through Sport."

A fuller biography of Carteron by Eringer, containing insight into the Crans Montana Forum, can be found here:
"As a young man with a law degree from the University of Paris, Carteron tried to break into French politics but could not find support and lost several elections. Perhaps disillusioned with the system, he left France in 1981 and went to work as a lawyer for Francois "Papa Doc" Duvalier of Haiti and wound up looking after Papa Doc's huge financial fortune.
When Papa Doc died, Carteron carried on with Jean Claude "Baby Doc" Duvalier, for whom he facilitated real estate deals along the Cote d'Azur and in Monaco.[...]
As Haiti's ambassador to the UN in 1985, Carteron took the opportunity to forge strong links with Eastern European countries, and utilized those contacts as the basis for creating the Crans Montana Forum in Switzerland in 1989. (Carteron was a Swiss national on the basis of his first marriage to a Swiss national, Patricia Luyet.)
Only after bloodying his hands with the Duvaliers and enriching himself did Carteron portray himself as "humanitarian." And his forum endeavored to provide respectability for brutal, corrupt regimes in Africa, from which Carteron personally profited. One notable example is Congolese President Sassou N'Guesso's six hundred thousand Swiss-franc "contribution" to the forum.
By 1996, the Swiss became disenchanted with Carteron and requested he move his forum elsewhere. They suspected him of money laundering, and his forum gave them logistical headaches due to its dubious participants, many of which had to be kept under surveillance while in country.
His forum thus displaced from Switzerland, Carteron chose Monaco as a new base and received permission from Prince Rainier to create a Monaco S.A.M. and stage his forum inside the principality. Carteron began to call his private entity the Monaco World Summit. Leaders of other countries invited to participate for a fee were given the impression, because of its name, that the summit was an official Monaco event or at least sponsored by Monaco, which it was not.
Once he institutionalized his summit in Monaco, Carteron began to establish himself as a professional middleman. His specialty: Brokering honorary consulships to Monaco from Eastern European and Balkan countries. His standard rate to get someone named as honorary consul to Monaco: Fifty thousand euros.
In one case he was said to have requested and received an expensive Breguet wristwatch."

Robert Eringer confirmed to WSRW that he stands by every word he has written on Carteron.

Carteron is mentioned in the civil procedure "Republic of Haiti and others versus Duvalier and others", as having been paid by the Haiti regime during the eighties [or download]. The man has also been accused of racketeering by a Geneva based banker in 1994.

WSRW sent letters to Crans Montana Forum on February 2nd, 17th and 27th 2015, and on February 15th 2016. No reply has been received.