This is how you order the book "The European Union Approach Towards Western Sahara".
In 2017, a new book on Western Sahara was edited by professors Marco Balboni and Giuliana Laschi.

The book is the outcome of a workshop with the same title, organised in 2014 at University of Bologna, where both professors are lecturing. The workshop took place in the framework of the Italian presidency of the European Union.

Contributors to the book are: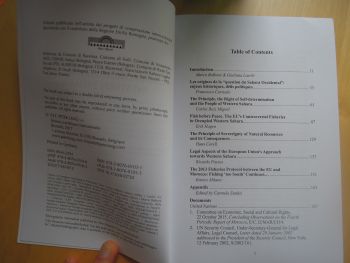 -Francesco Correale, Tours-CNR University, 'Les origines de la « question du Sahara Occidental » : enjeux historiques, défis politiques'
-Carlos Ruiz Miguel, University of Oviedo: 'The Principle, the Right of Self-determination and the People of Western Sahara'
-Hans Corell, former Under-Secretary-General for Legal Affairs and Legal Counsel of the United Nations: 'The Principle of Sovereignty of Natural Resources and its Consequences'
-Ricardo Passos, European Parliament, Director, Legal Affairs: 'Legal Aspects of the European Union's Approach towards Western Sahara'
-Erik Hagen, Western Sahara Resource Watch: 'Fish before Peace. The EU's Controversial Fisheries in Occupied Western Sahara'
-Enrico Milano, University of Verona: 'The 2013 Fisheries Protocol between the EU and Morocco: Fishing 'too South' Continues.

The book can be ordered through this form - and might also be possible to purchase in e-version via this site (we did not try that ourselves).

The book is also available via Amazon.com.