For the fourth consecutive year, the German engineering company dodges questions at its Annual Shareholders Meeting as to whether it has obtained the consent of the people of Western Sahara to operate on their land.
Khadja Bedati, who grew up in a refugee camp due to Morocco's invasion of her homeland Western Sahara, again took to the Siemens AGM, on 5 February 2020 in Munich, to ask the company what steps it had taken to obtain the permission of her people to carry out work Siemens in the territory.

CEO Joe Kaeser avoided answering her question by telling Bedati to take the issue up with Siemens Gamesa Renewable Energy (SGRE), a subsidiary of Siemens that has taken over the renewable energy branch since the merger with Spanish energy technology company Gamesa in April 2017.

"I promised you answers last year and asked you to contact SGRE, which is also the responsible company. If you have not received an answer to your question, I will this time make sure personally that your questions are answered. I cannot assure you that they will be treated as you understand it, but you will be given an answer. Apart from that, there is nothing to add to the position we took last year, nothing has changed", Kaeser stated.

But just like its parent company, Siemens Gamesa is evasive with regard to the simple yet crucial question whether the company obtained the prior, free and informed consent of the people of the territory for the infrastructure projects the company is undertaking in collaboration with a Moroccan company that is in the portfolio of Morocco's monarchy?

WSRW has raised that question with Siemens Gamesa on multiple occasions. Our last letter on the matter was sent in December 2019, and remains unanswered to this date.

In previous correspondence with WSRW, Siemens Gamesa avoided the fundamental issue of consent altogether, and instead argued that they believe that their projects "will bring real value to communities and people" and that it "does not take a stance or make judgments on issues of international public law".

Siemens Gamesa also will not answer the question as to whether it believes Western Sahara to be separate from Morocco. The company states that "the region of Western Sahara is disputed with the United Nations", even though the UN is in fact not considering it disputed or a region. The term "region" is a Moroccan term, while the UN refers to Western Sahara as a "territory".

Siemens' lack of knowledge relating to the territory being separate from Morocco is also visible on its own website, where it still refers to the 50MW Foum El Oued park - responsible for providing 95% of the energy needed to exploit Western Sahara's phosphate reserves - as being in Morocco.

Repeated history of void promises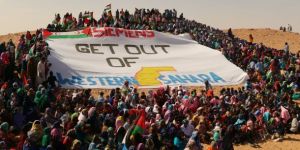 At last year's shareholders' meeting, Kaeser had referred Khadja Bedati to Siemens Gamesa and assured her that he would personally ensure answers from the subsidiary, whose activites allegedly did not fall within the scope of Siemens AG's responsibility. Bedati has told WSRW that Kaeser has this year again repeated that same promise in a personal conversation at the start of the AGM.

Today, Bedati is frustrated with the empty promises and non-anwers. "I am angry about this disrespect for myself and the Saharawi people. Siemens has no arguments as to why things are different in the occupied Western Sahara than on the Russian-occupied Crimean peninsula, with which Siemens does not want to be associated under any circumstances", Ms Bedati told WSRW. "We demand Siemens to cease all activities, including those of its subsidiaries, in occupied Western Sahara until it has obtained explicit approval from the Saharawi people."

Growing criticism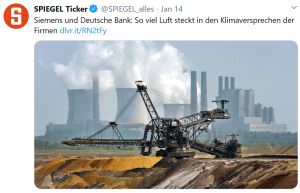 Bedati is not alone in her criticism. The German shareholders' association Dachverband der Kritischen Aktionärinnen und Aktionäre had submitted a countermotion to the AGM stressing Siemens' responsibility vis-à-vis the activities of its subsidiary in Western Sahara:

"Western Sahara: Wind power from Siemens enables illegal looting of raw materials. Wind turbines from Siemens Gamesa are installed in the part of Western Sahara that is occupied by Morocco. International courts have time and time again stated that this occupation is unlawful. All projects concerning the Western Sahara region need prior consent from the recognized representatives of the Sahrawi people. To date, Siemens Gamesa has not obtained this consent. Instead, Siemens Gamesa has signed a further maintenance agreement with the Moroccan government through to 2033. Neither Siemens nor SGRE have clearly explained why they are not respecting the Sahrawi people's democratic rights of home rule. Morocco itself is not interested in such consultations taking place, as the illegal exploitation of the valuable resources of Western Sahara will be even more profitable as a result of the wind turbines from Siemens. As opposed to Siemens' assumptions, electricity generation will have no long-term benefits for the Sahrawi. According to Moroccan state-run company OCP, which illegally operates aphosphate mine in the occupied territory, 95 percent of the required energy comes from the Siemens Gamesa wind turbines. The pension funds of the Norwegian and Swedish governments have concluded that OCP is breaching international law by exporting these non-renewable rawmaterials. The value of three shiploads of phosphate corresponds roughly to the amount of humanitarian aid given to the Sahrawi refugees. With its wind turbines, Siemens Gamesa contributes directlyto this looting and the continuing occupation. The Siemens Managing Board has a clear responsibility regarding the activities of Siemens Gamesa, since Siemens AG is the majority shareholder."

The speech of Khadja Bedati as well as the short answer of Joe Kaeser can be found here. The video of the speech is available here.