The multinational company that facilitates the controversial phosphate exports in Western Sahara receives criticism from a group of German organisations.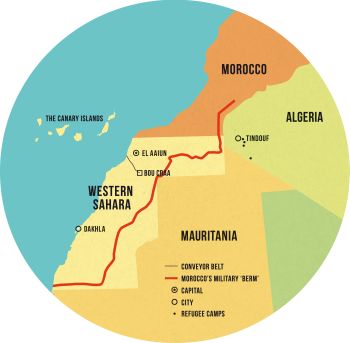 Every year, Morocco exports between 1 and 2 million tonnes of phophate rock from Western Sahara, in violation of international law. The rock is transported from the mine out to the harbour on the world's longest conveyor belt.

The company that maintains that controversial infrastructure is the German company Continental. Its existing contract with the state-owned Moroccan phosphate company, OCP, expires on 20 June 2020. A renewal of that contract is currently being negotiated.

In an open letter sent today, eight organisations jointly appeal to the German company to "comply with its corporate responsibility and not to provide economic support for Morocco's occupation of parts of Western Sahara in violation of international law".

The letter is signed by Aktionsgemeinschaft Solidarische Welt e.V., Dachverband der Kritischen Aktionärinnen und Aktionäre e.V., European Association of Lawyers for Democracy and World Human Rights (ELDH), medico international, terre des hommes Deutschland, Freiheit für die Westsahara e.V. and Zentrum für Europäische und Orientalische Kultur e.V., in addition to Western Sahara Resource Watch Germany.

According to letters from Continental, the first time the company supplied the Bou Craa mine with a conveyor belt was in 1971, thus during the Spanish colonial reign over Western Sahara by General Franco's regime. After Western Sahara was militarily annexed by Morocco in 1975, the Moroccan authorities moved to administer the mines in the occupied territory through the state-owned OCP S.A.

Later, Continental "entered into a framework agreement with OCP S.A. to ensure replacement demands when needed" for the conveyor belt, according to a letter from the company.

The export of phosphate rock, now primarily to India, New Zealand and China, is one of Morocco's biggest sources of income in the territory under illegal occupation.

Western Sahara Resource Watch (WSRW) documents the phosphate trade from the occupied territory in annual reports called P for Plunder. The latest report was published in February 2020. WSRW documented the trade last year to be just over 1 million tonnes of rock.