9 Sahrawis injured after intervention from Moroccan police.
9 Sahrawis are injured after Moroccan police stopped a Sahrawi demonstration against the plundering of Western Sahara's fisheries resources this week, according to the Committe against torture in Dakhla.
The police had tried to prevent the Sahrawis entering the harbour area where the Moroccan and international fisheries industry takes place. The harbour hosts a number of foreign companies that works with the Moroccan fisheries authorities.
The Sahrawis particularly protested the fishing of octopus, a species that has been close to extinction from over-fishing.
The 3 Sahrawi men Edjil uld Mohamed, Sid Ahmed Uld Backar and Murad uld Moishan were still detained by the police when the committee issued the news release below on the 10th of July 2008.
Morocco has occupied Western Sahara since 1975, in violation of international law.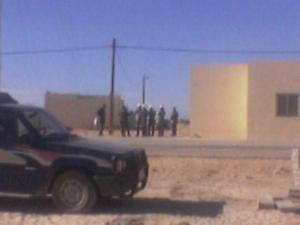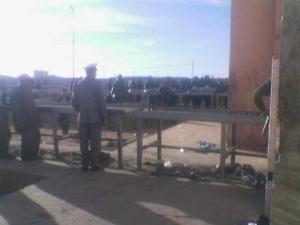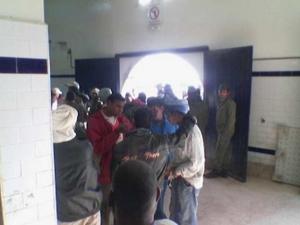 Dakhla, Sahara Occidental
Las autoridades de ocupación marroquíes en la ciudad de Dajla detienen y torturan a tres ciudadanos saharauis, Edjil uld Mohamed, Sid Ahmed Uld Backar y Murad uld Moishan, tras una sentada de protesta pacífica por el saqueo indiscriminado de las riquezas marinas saharauis que está cometiendo el régimen marroquí en la parte que ocupa del territorio saharaui.
En apoyo a estos ciudadanos se han manifestado decenas de jóvenes en la localidad pesquera de la Chica denunciando esta política de exterminio y saqueo practicada por el pachá de la zona, Mohamed Sadki, y sus correligionarios comerciantes que saquean sin escrúpulos estos bancos de pulpos.
Los manifestantes piden de la comunidad internacional la protección de estas riquezas y la presión a las autoridades marroquíes para que cese el expolio de los recursos saharauis.
La policía intervino para dispersar los manifestantes y a raíz de su brutal intervención dejo un saldo de 9 heridos: El Abasi uld Mohamed, Masaud uld Brahim, Hamdi uld Greimish, Abba uld Larosi, Faddali uld Ebheya, Terruzi uld Ahmed, Mesca uld Mohamed, Malainin uld Ali y El Alui uld Sidi Brahim.
Según activistas saharauis de derechos humanos, el jefe de los servicios secretos marroquíes en esta zona ha prohibido a los jóvenes saharauis acceder a este lugar pesquero para manifestarse e incitó contra ellos a los colonos marroquíes.
En esta localidad saharaui operan unas 6512 embarcaciones pesqueras marroquíes para vender sus capturas a 137 empresas de procesamiento y enlatado en Dajla.
En este negocio se encuentran operantes 12 barcos de una empresa que dirige un responsable llamado Zebdi, encargado como director general de los negocios de los dos generales marroquíes investigados por el juez de la audiencia nacional Baltasar Garzón por crímenes de guerra, Housni Ben Sliman y Hamidu Laanegri, este último declarado en busca y captura por un juez francés por el caso del asesinato del opositor marroquí Mehdí Ben Barka.
NOTA: Ambos, investigados por el juez Garzón, fueron condecorados por el Gobierno español en enero de 2005. El consejo de ministros otorgó entonces, en vísperas de la visita de los Reyes a Marruecos, la Gran Cruz de Isabel la Católica a Hamidou Laanegri, director general de la Seguridad Nacional marroquí, y Housni Ben Sliman, general de la gendarmería real. La decisión fue acogida con protestas por parte de grupos defensores de los derechos humanos. Por otra parte el pasado 21 de octubre de 2007 un juez francés dictó orden de detención internacional contra Ben Sliman por el caso Ben Barka, acontecido hace ahora 42 años. Ben Barka, líder opositor al régimen de Rabat, desapareció en París en 1965. Se supone que fue asesinado, aunque su cuerpo nunca fue encontrado