One giant vessel has just offloaded its cargo in the United States, and is now passing this river bend along the Mississippi.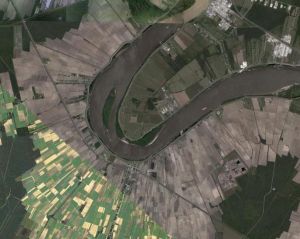 The Chinese bulk vessel 'Fu Min' was last observed in this river bend on the morning of 19th of December 2008, local time, close to the town of Carville, a few miles south of Baton Rouge, New Orleans.
The vessel had docked at Grandview Anchor of PCS Nitrogen in New Orleans, on 11th of December 2008, where she discharged her cargo.
As other vessels going to the fertilizer producer PCS Nitrogen, the Fu Min can have shipped as much as 70.000 tonnes of phosphate rock from occupied Western Sahara. The trade is in violation of international law, and highly unethical. The money for the cargo, which could have amounted to approximately 30 million USD, was paid directly to a Moroccan state phosphate company. The people of Western Sahara do not benefit from the trade, but are suffering from Morocco's illegal occupation which started in 1975.
Fu Min has IMO number 9154115, sailing under Panama flag, and is reported to be owned and operated by Loyal Shipping Inc. Agent in New Orleans was, as before, K & C Shipping.
It is also possible the vessel is managed by Cosco HK Shipping. Cosco is part of the same state owned Chinese shipping company that made the international headlines, when it earlier this year
shipped arms to Zimbabwean president Robert Mugabe.