A heated start of the New Year in occupied Western Sahara, as unemployed Saharawi graduates step up their protest against Morocco's discriminatory employment practices by starting a hunger strike.
Today, 12 January 2016, a group of unemployed Saharawi graduates have started a hunger strike to demand respect for their right to work. The group is staying at the local headquarters of the Moroccan Association for Human Rights (AMDH) in El Aaiun - the capital city of occupied Western Sahara.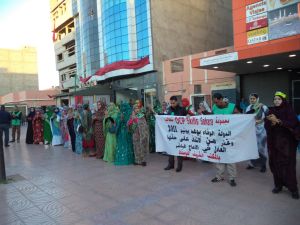 The group states that they hold the local divisions of the Moroccan government responsible for any consequences resulting from their hunger strike. The group says they've sent letters informing about their hunger strike plans to the local delegate for the Ministry for Health, the Moroccan civil protection and Morocco's public prosecutor.

Saharawi youth in El Aaiun have been protesting for about a month, as it became clear that the promised 500 new jobs in the Phosboucraa factory would be out of their reach. The qualification criteria are too high for Saharawis, who live on the fringes of society in their occupied homeland and can't afford to take careers at Moroccan universities. As a consequence, most jobs would - yet again - go to Moroccan settlers.

To the Saharawi youth, who grew up as second class citizens under a brutal occupation, this was the proverbial straw that broke the camel's back. Since mid-December, they've been protesting practically every day. The Moroccan police responds to the demonstrations in their usual way; with disproportionate use of police violence.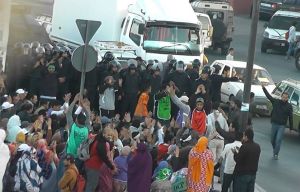 Morocco's state owned phosphate mine, Phosboucraa, is the biggest employer in the occupied territory. Morocco took over the management of the mine only few weeks after the occupation, in the last months of 1975. The last years, WSRW has made annual reports on Morocco's trade in Western Saharan phosphate rock. Four importers have halted the imports over the controversies.

In October last year, the UN Committee on Economic, Social and Cultural Rights confirmed that the Saharawis are indeed particularly affected by poverty, and expressed its concern that the Saharawis right to dispose of their natural resources was still not respected.

The photos below were taken in the AMDH headquarters in El Aaiun. The banner reads: "The local coordination group starts an open hunger strike".