The Canary Islands are opening their eyes to the dangers of Morocco's illegal oil programme in Western Sahara. The currents would take any spill right onto shores of the tourist magnet.
"In general, the Canary current runs in north-south direction between the Canaries and Morocco/Western Sahara. But as the current reaches the Cap Boujdour area, it heads in all directions through a network of whirlpools. A possible spill can simply go in any direction, but most likely out to the west", physical oceanography professor at University of Las Palmas Gran Canaria, Alonso Hernández-Guerra, explained to Western Sahara Resource Watch (photo to the right).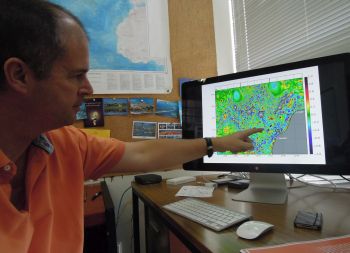 "It is evident that a possible spill can go to any of the Canary Islands. It is far more likely that an oil spill of Cabo Bojador would flow to the Canaries than to the shores of Western Sahara itself", Alonso stated.
Yet, the Moroccan drilling programme in the territory of occupied Western Sahara has not stirred debate. So far.
"From what I have noticed, there has been hardly any debate at all on the Canary Islands regarding the oil exploration offshore Western Sahara", states Ricardo Haroun, professor in marine conservation at the University of Las Palmas de Gran Canaria.
Haroun's research group last year completed a study on the possible environmental damages of a spill from Repsol's oil exploration in Spanish waters off the Canaries. Repsol's programme have created an outcry on the tourism-dependent archipelago.
"The Canary Islands have a highly diverse marine life, both on the coast and in the surrounding waters. A spill in Western Sahara waters could have severe effects on the rich marine biota either in the Canarian shores and/or the Saharawi coastline, depending on where a spill would end up", Haroun told WSRW.
The Spanish company Repsol, which has received licences from Madrid for oil exploration in Spanish national waters off the coast of the Fuerteventura and Lanzarote Islands, carried out its own environmental study. The report was sent to the Spanish government in 2013, and the debates on the possible harm to the environment have been vivid both before and after Repsol's document was presented to the public.
However, the companies that will drill in occupied Western Sahara on behalf of Morocco, the occupying power, have not published any Environmental Impact Assessment. Due to the lack of transparency over the matter, the environmental risk has gone completely under the radar.
WSRW presents the report Platform for Conflict 1900 this evening in Las Palmas, Gran Canary. The report also mentions the unclear liability if a spill would take place from Moroccan oil search in waters which are not Moroccan.