Two Swedish fishermen have been charged with illegal fishing off Western Sahara. Their allegedly illegal catches have been worth 1,9 million euros.
Swedish newspaper Göteborgsposten wrote yesterday that two Swedish fishermen are charged in Sweden with fishing offshore Western Sahara without permission. See full story below (in Swedish).
The two fishermen, 62 and 53 years old, are the owners of the vessels which have done the supposedly illegal catches. They have themselves not been onboard the vessels during the 13 month period that the fishing took place. The fishing itself has been carried out by other Swedish captains, close to the two persons charged.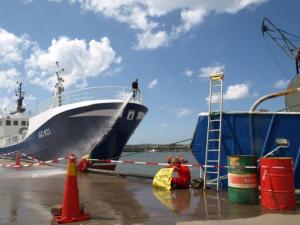 According to state prosecutor James von Reis, the two vessels have been operated without general fishing permissions, as well as operating outside of EU fisheries partnerships. One of the vessels were boarded by Greenpeace activists last year.
The photo to the right shows one of the vessel's workers or owners, trying to make the Greenpeace activists leave the vessel's berth.
The prosecutor claims that the 2 vessels have earned 14 million kroners in 2007 and 6 million Swedish kroners in 2008, in total around 1,9 million euros. These are pure profits, after local licences and salaries have been paid. These figures are said to be proved after Swedish police raided the home of the 53 year old.
The two fishermen charged admits fishing offshore Western Sahara and Morocco, but refuses having done anything wrong, according to Göteborgsposten.
Göteborgsposten
16 April 2009
Tjuvfiskade för 20 miljoner
Två yrkesfiskare från Frölunda åtalas för att ha trålat utanför Afrikas kust, utan gällande tillstånd. Under ett år tjänade männen, och de släktingar som hjälpt dem, över 20 miljoner kronor netto.
De två som inom kort ställs inför rätta - en 62-åring och 53-åring - står som officiella firmatecknare bakom de fartyg som dragit upp de påstått illegala fångsterna.
De har själva inte stått i styrhytten under de tretton månaderna. Fisket har skötts av många olika svenska kaptener, företrädelsevis anhöriga till de misstänkta.
Saknat tillstånd
Enligt kammaråklagare James von Reis har de aktuella båtarna och deras företrädare saknat dels generellt fartygstillstånd för yrkesfiske i allmänhet, dels särskilt fartygstillstånd för fiske i de aktuella farvatten i enlighet med EU-avtalet.
Åklagaren hävdar vidare att de två båtarna bedrivit partrålning och på detta dragit in 14 miljoner (2007) och 6 miljoner (2008). Detta är den rena vinsten, sedan lokala licenser och löner till afrikanska besättningsmedlemmar betalats.
Bestrider brott
62-åringen och 53-åringen medger att de befunnit sig utanför Västsahara och Marocko, men bestrider brott.
De menar att de i själva verket haft ett så kallat bareboatkontrakt med en afrikansk aktör - och alltså bara varit inhyrda för att hjälpa honom.
Under husrannsakan hos 53-åringen säkrade dock polisen skriftlig dokumentation på hur mycket de göteborgska yrkesfiskarna de facto dragit in.