Sweden is known for paying lip-service to Saharawi self-determination, but is it putting its money where its mouth is? Check out our newly published report on Sweden's involvement in the taking of occupied Western Sahara's natural resources.
Above: In 2008, Greenpeace demonstrated in Gothenburg, Sweden, against local fishermen operating in Western Sahara. The Swedish involvement in Western Sahara has just increased ever since.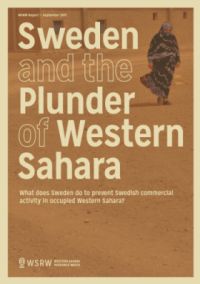 Though Sweden's official discourse on Western Sahara is rooted in the legal principles applicable to the occupied territory of Western Sahara, subsequent Swedish governments have done remarkably little to firmly anchor that stance in concrete policy vis-à-vis the Swedish business sector. That is one of the conclusions of WSRW's new report, "Sweden and the plunder of Western Sahara", outlining the position of Sweden's government and private sector with regard to commercial activities in or in relation to Western Sahara.

Download the report here.

Echoing Sweden's position that no trade preferences could be granted to Western Saharan products under the EU-Morocco trade deal, the Court of Justice of the European Union (CJEU) ruled in December 2016 that no EU trade or association agreement with Morocco can be applied to the territory of Western Sahara, unless with the explicit consent of the people of the territory.

Yet even since that momentous judgment, the Swedish government has not provided clear guidance and advice to both government institutions and the Swedish business community in how to relate to the Western Sahara territory or the CJEU judgment.

Meanwhile, Swedish companies remain actively involved in Western Sahara. Atlas Copco is providing necessary equipment for Morocco's plunder of Western Sahara's phosphate reserves; shipping firm Wisby Tankers is a key-supplier of petroleum products to the territory - vital for sustaining the occupation; the Gothenburg-based fishing industry has found lucrative deals in Western Sahara's rich waters; while a tour operator is promoting kite-surfing in the south of the territory. All but one government-owned funding mechanisms lack a well established protocol for dealing with project-proposals affecting Western Sahara.

"The Swedish government has a responsibility to issue clear guidance on how companies and governmental bodies ought to act in relation to Western Sahara. The present absence of advice from the government has led to a multitude of interpretations of legal principles applicable to Western Sahara, which is neither fair to Saharawis nor to Swedish entrepreneurs", says Erik Hagen from Western Sahara Resource Watch. "We call on the Swedish government to clearly advice businesses not to engage in the territory", Hagen stated.

The report is written in collaboration with Emmaus Stockholm and is officially presented to the public today in Stockholm. More info on the report launch is available at Emmaus Stockholm's webpage.

A Swedish version of the report can be downloaded here.