At least six Scandinavian investors have the last few years divested from international fertiliser firms importing from occupied Western Sahara.
Photo: Former Sahrawi workers demanding their rights in front of the Ministry of Mines in El Aaiun, occupied Western Sahara. Most Saharawis working in the phospahte mine were fired or fled when Morocco occupied the country.

A simple internet search by WSRW, reveals that at least six banks so far have divested from companies involved in purchasing phosphate rock from occupied Western Sahara. Most investors use confidential "blacklists", so the actual number of ethical investor is probably larger than these six.

The banks known to have divested so far are Danske Bank (Denmark), Seventh AP Fund (Sweden), Folksam/KPA (Sweden), Öhman Funds (Sweden), KLP (Norway), probably Ilmarinen (Finland). In addition Nordea (Sweden), as well as the First, Second, Third and Fourth AP Funds (Sweden), are in dialogue with the businesses involved.

Danske Bank excluded 5 fertiliser firms in 2009 due to their imports from Western Sahara. The 5 are Innophos, Potash Corp, Wesfarmers, FMC and Incitec Pivot. The reason presented is "Import of natural resources sourced in conflict with human rights norms."
Read more on their Corporate Responsibility Factbook 2009, Exclusion list as of 24 August 2010 (English), and Exclusion list on Danica pages (Norwegian) or Download list here.

According to the Annual Report 2009 of Seventh AP Fund, the three fertilizer producers Incitec Pivot, Wesfarmers and PCS were all blacklisted due to "Reported involvement in violation of human rights in Western Sahara".

The "sister funds" of the Seventh AP Fund, however, were still involved. In 2009, the Swedish government funds First, Second, Third and Fourth AP Funds were in dialogue with Incitec Pivot, according to Annual Report 2009 of the four funds' joint Ethical Council:
Incident: Incitec Pivot purchases phosphate from a Moroccan company that is involved in mining phosphate in Western Sahara. Western Sahara, a former Spanish colony, has been occupied by Morocco since 1975 and is on the UN list of Non-Self-Governing Territories which must be decolonised. The exploitation of the natural resources of Western Sahara, against the will of the Sahrawi population, was declared illegal in an opinion issued in 2002 by the UN Under-Secretary General for Legal Affairs. Doing so would be a contravention of the International Covenant on Civil and Political Rights and the International Covenant on Economic, Social and Cultural Rights.
Objective: For Incitec Pivot to cease its purchases of phosphate from Western Sahara, or to prove that extraction is carried out in accordance with the interests and wishes of the Sahrawi population, in line with the UN legal opinion from 2002. The company must also adopt a corporate policy that prevents it from contributing to breaches of international humanitarian law.

At June 2010, Norwegian investor KLP had divested from four fertilizer firms, according to their June 2010 SRI report:
The reason is that the companies are "indirectly funding Morocco's illegal occupation of the territory. In an opinion, issued in 2002, by the UN Under-Secretary General for Legal Affairs, the exploitation of natural resources in colonized territories, Western Sahara in particular, was declared illegal if it is not to the benefit of the people of the territory."
The four firms are Wesfarmers, Incitec Pivot, PCS and FMC Foret.

KLP works in partnership with Swedish investor Folksam and Finnish Ilmarinen regarding the fertiliser firms' engagement. Writes Folksam:
"Folksam has cooperated since 2008 with the Norwegian company KLP and the Finnish company Ilmarinen in the Nordic Engagement Cooperation (NEC), with the aim of coordinating corporate governance activities relating to the environment, human rights and anti-corruption. NEC achieved key success in 2009 in its dialogue with Wesfarmers. Folksam disposed of its holding in Wesfarmers in 2008 because of imports of phosphates from Western Sahara by a Wesfarmers subsidiary, but if these imports are halted Folksam will be able to review its decision."

Ilmarinen confirms its engagement on the Western Sahara issue in its Financial Responsibility report from 2009.

The Swedish bank KPA Pension – a subsidiary of the bank Folksam - sold its ownership in Wesfarmers in 2008.
"We would rather try to influence the companies to improve, and the most efficient way is as owners. However, we've had no development in this case", said Carine Lundberg Markow, responsible for Social Responsible Investments at the Swedish bank Folksam. Even the Swedish fund manager Öhman announced in December 2007 to divest from Wesfarmers.

Even though Wesfarmers remain a substantial importer of phosphate rock from Western Sahara until today, Nordea has announced that Wesfarmers investments in new plants were sufficient for their decision for not divesting. See their Responsible Investment & Governance report from June 2010.
See the same report in Danish:

Western Sahara
Western Sahara has been on the UN's list of Non-Self-Governing Territories since the 1960s. Western Sahara was invaded by Morocco in 1975 and the area has been occupied ever since. Sourcing natural resources from this occupied area contravenes the right to self-determination unless it is carried out with full respect of the interests and needs of the people. The business reference for companies' requires companies to adopt a human rights policy and ensure that they take into account the right to self-determination. Companies should also require all business partners to adhere to this.

Controversial sourcing of phosphate rock
In recent years several companies have been criticized for exploiting natural resources from Western Sahara. Nordea has been engaged in three companies within this area, all of them have been involved in sourcing of phosphate rock. However, we are also investigating companies involved in sectors such as shipping, fisheries and oil & gas.

Positive results
Nordea's engagement with the Australian company Wesfarmers was successfully concluded in 2009.Our dialogue with Wesfarmers revealed that, in response to shareholder pressure, they have decided to invest in a new facility that will address the Western Sahara phosphates issues. The new facility will enable the company to use a range of suppliers other than those from Western Sahara. However, this solution will require that the company continues to source from Western Sahara for another year.
Nordea's engagement with the Mosaic Company (US) was successfully ended in June 2010. Mosaic has now disclosed that they have discontinued their purchase of phosphate from Western Sahara, which also has been independently confirmed. The company has acknowledged the human rights issues involved with importing phosphate from Western Sahara.

Ongoing engagements
Potash Corporation of Saskatchewan

Ended engagements
Wesfarmers and The Mosaic Company

Another report from Nordea, in Swedish, has a somewhat different wording (Unofficial translation by WSRW).
"Nordea funds have for some time been in negotiations with the company Wesfarmers. The company has broken international humanitarian norms through its imports of phosphate rock from Western Sahara. Wesfarmers has now decided, after pressure from Nordea funds and others, to invest in a plant that will make it possible for the firm to import phosphate rock from other areas than only Western Sahara. In December 2009 we therefore chose to stop our negotiations with Wesfarmers.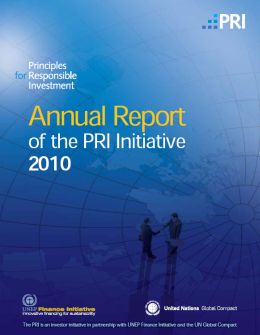 The investments done by Wesfarmers in Australia are also mentioned by the 2010 Annual Report of the PRI initiative. PRI is an investor initiative in partnership with UNEP Finance Initiative and the UN Global Compact, and its engagement called Clearinghouse, cooperated on the Wesfarmers case. Clearinghouse was first established in late 2006, providing signatories with a forum to share information about engagement activities they are conducting, or would like to conduct.

Australia: A collaborative engagement helped persuade a subsidiary of Australian mining firm Wesfarmers to invest in equipment to enable the sourcing of phosphate rock from places other than a controversial current source in an illegally occupied part of the Western Sahara, the PRI report states.