For 50 days, six Saharawi citizens in Guelmim have been on hunger strike to denounce Morocco's illegal exploitation of Saharawi natural resources. Their health condition is alarming.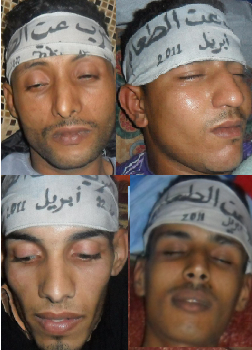 On 12 April 2011, six Saharawi residents of Guelmim in southern Morocco initiated a hunger strike in protest of Morocco's policy of marginalisation targeting Saharawi and the continuous plunder of Western Sahara's natural resources by Morocco and complicit parties.
In spite of the wealth hidden in their country's soil, Saharawi in the Moroccan occupied territories of Western Sahara are living in dire poverty. Being increasingly relegated to the fringe of society, they've become socio-economic outcasts in their homeland. Protests denouncing this situation have become commonplace.
Abdellahi Bariaz, 35 years, Ddriss Zagara, 27 years, Eddaowdi Aomar, 25 years, Mohamed Ahachhach, 24 years, Ibrahim Al Rafiky, 24 years and Lachhab Mokhtar, 22 years, are now risking their health in an attempt to draw the world's attention to the ransacking of Western Sahara. The six are all from Guelmim, a town in southern Morocco, not far from the border to Western Sahara. They suffer from high blood pressure, blood-vomiting, stomach aches and queasiness, kidney failure, haemorrhoids and asthma.
According to a
UN Legal Opinion of 2002
, economic activities in Africa's last colony can only take place if the Saharawi agree to it and stand to benefit. Neither of these conditions has ever been fulfilled by Morocco or complicit interests. The recent wave of protests denouncing the plunder proves that.