On 20 June, three officially registered Saharawi fishermen organisations gathered in front of the Delegation of Maritime Fisheries in El Aaiun, to denounce the exclusion and marginalisation they face in the job market.
This story was first published on Fishelsewhere.eu, on 23 June 2012.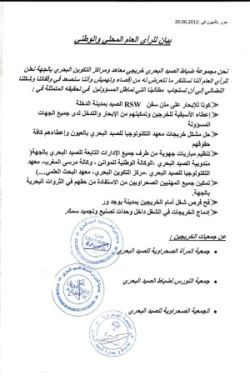 The protesters are graduates from the Technical Insititute for Maritime Fisheries in El Aaiun. In spite of their training, they claim that Moroccan sector officials systematically deny them the possibility of employment.
"All job interviews take place in Morocco, not here in El Aaiun. As a result, Moroccan graduates get jobs in El Aaiun and Dakhla. We don't even get a chance to compete with them for a job in our own town", says one of the protesters.
In a statement issued on the day of the protest, the three organisations - Ennawras Association of Marine Officers, the Saharawi Women's Association for Fishing and the Saharawi Association for Fisheries - call for job interviews and capacity tests to be held locally. They state that graduates from the area, including women, should be the first ones to be recruited in the area. In the case of El Aaiun, tests should be open to Saharawi.
They also call for the Moroccan government to allow the fishermen from Dakhla the chance to work on the so-called RSW fishing vessels, a fleet of large and normally foreign owned vessels, operating from Dakhla.
Finally, the organisations express their stance that Saharawi fishermen should be allowed to benefit from the local fish stocks - something which they aren't now.
Click on the picture to the right for a larger version of the fishermen associations' statement (Arabic).