Saharawi student asked Morocan state phosphate company how her people benefits from the plunder. OCP now tries to silence the stunt, by preventing it from being aired on Youtube.
OCP is the Moroccan state phosphate company that exploits the phosphate reserves in occupied Western Sahara. No state recognises Morocco's claims to the territory, and the exploitation takes place in the disregard of the wishes and interests of the people of Western Sahara.

The Moroccan state company and its clients internationally has claimed that the activities are lawful since they are to the benefit of the people of Western Sahara. They all claim this by pointing to an "expert opinion" written by their US law firm Covington & Burling. However, the opinion claiming how good it is for the Saharawis, has, ironically, always been confidential - and never shared with the Saharawis themselves.

In 2009, Senia Bachir Abderahman, a Saharawi student in the US, looked up Covington & Burling's headquarter in Washington, DC, to get a copy of the secret opinion.

"I am here to try and find out how beneficial it is to the Saharawi people. I am a Saharawi myself and I just don't understand how on earth it can be beneficial and legal to steal phosphate from an occupied country", Abderahman states in the video. She is herself a refugee from Western Sahara.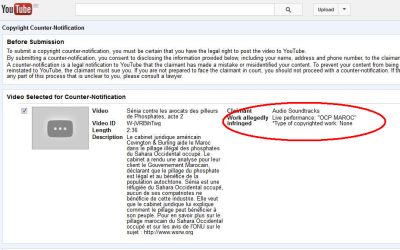 But now, OCP tries to stop the video from being aired on Youtube.

"We have disabled the following material as a result of a third-party notification from Audio Soundtracks claiming that this material is infringing", Youtube noted following the OCP complaint. The details posted to the owners of the video reveals that the claimant is "OCP Maroc". See image to the right.

Western Sahara Resource Watch knows of at least three different Youtube videos that have been tried stopped by an entity called "OCP Maroc" on 18 September 2013. Abderahman's two videos were among them.

After OCP Maroc tried to stop the videos, Abderahman has mailed both the office of the Director-General, as well as the Marketing Director of OCP asking if the information about OCP Maroc trying to block her films from Youtube is correct. Abderahman at the same time has asked OCP to send a copy of the Covington & Burling "expert opinion", as well as related opinions written for OCP by DLA Piper and KPMG. The requests have not been responded to.

Covington & Burling refuses to respond to questions from WSRW.