The Swiss supermarket chain Coop in October started labelling their tomatoes from "Western Sahara".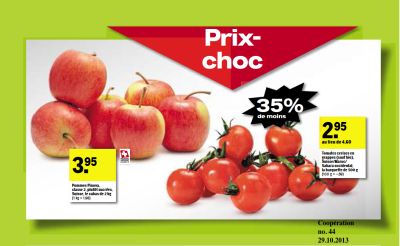 Whereas it has always refused to enter into the question of the labelling of agricultural products coming from Western Sahara, COOP Suisse had a special offer at the end of October of cherry tomatoes on a truss from "Switzerland, Morocco or Western Sahara". The offer was announced by the free COOP weekly newspaper, distributed in French, German and Italian to millions of Swiss households. See copy of the announcement to the right.

Click on image for higher resolution. The newspaper can also be downloaded here (page 138).

The big distribution chain has thus taken a first step to be in conformity with the laws and regulations. This is the second Swiss company in few months to do this. WSRW wrote in April that the other major distributor, Migros, will declare the correct origin of its Western Sahara melons in 2014, not as "Moroccan" as has been done until now. The issue of labeling has also been debated at the Swiss parliament, through a motion by MP Jacqueline Fehr.

Swiss Coop customers will now be able to make their choices fully informed : whether to buy tomatoes from the home country, or from Morocco, produced under deplorable conditions of work and transported thousands of kilometers, or those grown in the occupied territories of Western Sahara, pillaging illegally the underground fossil water sources of the Saharawi.

«Labelling correctly is a first step of good news for the Swiss consumers. Now they can make an informed decision to not buy these conflict tomatoes. It would be even better, of course, if they stopped selling Western Sahara tomatoes altogether, following the examples of Coop in the Nordic countries", stated Marie-Claire Martinoli of ARSO.

COOP in Sweden and Norway has in the past declared they do not want to sell agriculture products from Western Sahara.

"Today we have informed our supplier that in the future we only want products that they can guarantee have been produced in Agadir," Bjørn Kløvstad, communications director at Coop, wrote in an e-mail to the Norwegian NGO Future in our hands in 2009.

In January, 4 big Swedish supermarket chains, including Coop Sweden, stated they did not wish to have Western Sahara tomatoes in their shelves.