French company Alstom is building an electricity line through Western Sahara. Elghalia Boujamaa and her family was beaten and evacuated this morning by police.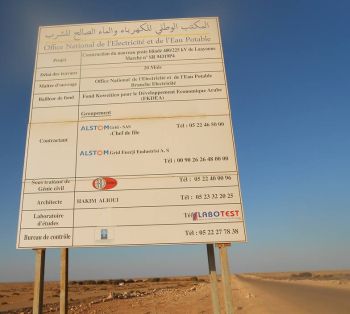 "The police are everywhere now. They came to my family's house this morning at 08:30 and kicked everyone out", Hassana Boujamaa told Western Sahara Resource Watch.

Boujamaa lives currently in Denmark, but was speaking on phone this morning, 22 October, with his family in Western Sahara. He said his sister Elghalia (photo above) was beaten and that they are still with the police. Since the afternoon, the phones were all turned off. He told that two cousins have been detained since this morning.

The Saharawi told WSRW that the land is located in Jhayfa, around 24 kilometers north east of El Aaiun, occupied Western Sahara.

"Our family has been living on that land since before the occupation, during Spanish colonial times. But the last months, with the ALSTOM power line, there have been pressure on the family to evacuate", he said.

Nearby the location, a board has been set up, explaining that the responsible for building the power lines is the Moroccan bureau Office National de l'Electricité et de l'Eau Potable, funded by Kuwait. The contractor is French multinational company Alstom.

"El Aaiun is like a prison, there are no freedoms there, and the Moroccan government is everywhere. That's why many Saharawis prefer to not stay in El Aaiun but in the desert areas like this", Boujamaa told.

He told that his grandparents used to use the same lots.

Morocco has illegally occupied the territory of Western Sahara since 1975. As far as Western Sahara Resource Watch has been able to establish, Alstom has never been in contact with any local Saharawi groups, nor with the exile government of Western Sahara, whether they want these electricity masts on their land.

The electricity is for the Moroccan industries in Western Sahara, and the settlers moving to the territory. Morocco is undertaking a massive plunder of the territory, in violation of international law.

See also the WSRW report Fuelling the occupation regarding the controversial petroleum imports into the territory.

WSRW has not contacted Alstom over the affair.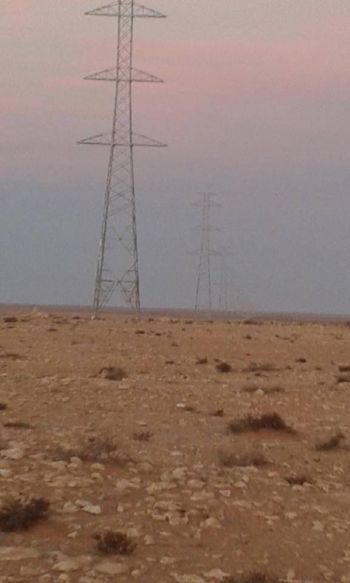 The photos below show the Alstom construction work.