One of the biggest shipping companies in Norway calls the arrival of a vessel to occupied Western Sahara "an unfortunate mistake", and guarantees to media it will never happen again.
Photo above shows the Norwegian flagged vessel 'Rosita' visiting the phosphate dock of Western Sahara, waiting to be loaded. The vessel is right now waiting to be loaded with phosphate rock.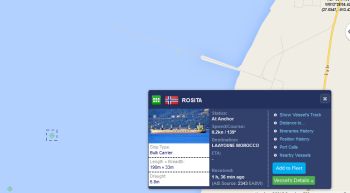 In order to prevent similar episodes in the future, the shipping company will introduce a provision in its contracts that prevents its vessels from doing similar assignments. The story below appeared on 14 April 2015 in the Norwegian business daily Dagens Næringsliv.

Translated to English by Western Sahara Resource Watch.


An unfortunate mistake
A vessel from Ugland is to ship phosphates from Western Sahara. An unfortunate mistake, according to the shipping company.
The dry bulk carrier «Rosita», a 52.000 tonne vessel owned by the Ugland shipping company in Grimstad, is awaiting to be loaded with cargo in ocupied Western Sahara. It will never happen again, CEO Øystein Beisland assures.
He says the vessel was rented out on a time charterparty contract with a duration between four and six months.
«The vessel was available in Morocco when we signed the agreement. It is the charterer who is in control over 'Rosita' in the period it is rented, and we were not aware of the fact that the vessel was directed to Western Sahara».
«An unfortunate mistake has taken place from our side», Beisland said.
Friday, the shipping company was in contact with the Ministry of Foreign Affairs and the Norwegian Shipowners Association over the situation.
For the future, Ugland will assure to install a provision in the shipping contracts preventing the arrival of the shipping company's vessels to Western Sahara.
The phosphate exports from Western Sahara is Morocco's largest income from the occupied territories.
Erik Hagen, director of the Norwegian Support Committee for Western Sahara is praising Ugland for having acted so quickly when they were made aware of the affair.
«It is commendable that the company now goes through this issue so thoroughly. Ugland's reaction sets an example for other Norwegian shipping companies, and shows it is possible to act responsibly, even in those cases where there are no clear international sanctions», Hagen told
«Regretfully, the occupation of Western Sahara is not very much known among the Norwegian population and in business circles. Therefore it is understandable that mistakes can happen, particularly for shipping companies with vessels visiting harbours all over the world.»
In 2007, the Norwegian Ministry of Foreign Affairs urged Norwegian companies to not trade or invest in Western Sahara in violation of the interests of the local people.