Three Saharawis have submitted a complaint against police brutality following their protest against companies that import phosphate rock from their occupied homeland.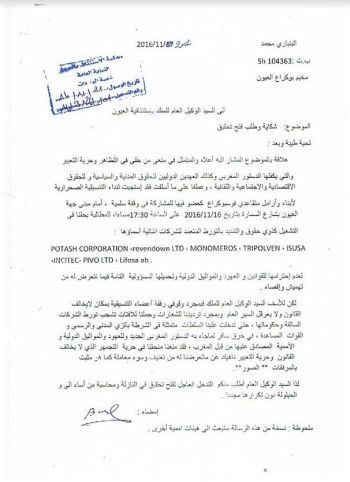 WSRW has received copies of three separate complaints against Moroccan police officers for brutally attacking Saharawis who took to the streets to denounce companies such as Canadian fertilizer producer PotashCorp, New Zealand's Ravensdown, Lithuania's Lifosa and Australia's Incitec Pivot. See one of those complaints to the right.

On 16 November, around a dozen of unemployed Saharawis and relatives of former employees of Phosboucraa - the Moroccan-controlled phosphate factory in occupied Western Sahara - pitched a protest in front of the wilaya, the governor's office, of El Aaiun - the capital city of the territory. They carried banners and shouted slogans that accuse several international importers of phosphate rock from Western Sahara, including the above mentioned, of not respecting international law and thus contributing to the Saharawis' exclusion from job opportunities.

Almost immediately, the protest was broken up by the Moroccan police. Three protesters, El Banbari Mohamed, Jeddna El Abidine and Hamma Sbaai, claim to have been beaten. On 21 November, they each submitted a complaint at the local court, asking the King's Prosecutor to open investigation into police violence and bring the responsible officers to justice.

The 2015 exports of phosphates from the territory have been documented in our latest P for Plunder report, published on 8 April 2016.

The photos below are from the protest of 16 November. Taken with a phone camera, resolution is quite low.