The last 3 years, Western Sahara Resource Watch has documented 6 shipments from occupied Western Sahara to the Australian Island island of Tasmania.
On at least 6 occasions since 2005, the Tasmanian based fertiliser producer Impact Fertilisers has received phosphate rock from occupied Western Sahara.
"In recognizing the inalienable rights of the peoples of Non-Self-Governing Territories to the natural resources in their territories, the General Assembly has consistently condemned the exploitation and plundering of natural resources and any economic activities which are detrimental to the interests of the peoples of those Territories and deprive them of their legitimate rights over their natural resources."
United Nations Under-Secretary General for Legal Affairs, Mr. Hans Corell, in letter to the Security Council, on 29th of January 2002.
Most of the phosphate shipments to Tasmania have indeed the last years come from China. It is unclear how this will change now in 2008, as China has imposed a 135 % export tariff to secure their own domestic fertilizer supply.
A bulk of the phosphate rock that is imported to Tasmania, is used locally for fertiliser production. Some of it is also shipped to the port of Geelong and Portland in Victoria, on the Australian mainland.
The Australian Western Sahara Association earlier this year protested the Impact imports, and
demanded an immediate halt to the trade.
"Accepting a phosphate rock shipment from Moroccan authorities in the occupied Western Sahara is a serious violation of fundamental ethical norms and international law. It gives the impression of political legitimacy to a brutal occupation, and undermines the UN peace process to find a solution to the conflict. Please put further importations on hold until the conflict in Western Sahara is settled", Cate Lewis of the Australian Western Sahara Association wrote in a letter to the company.
Impact admitted importing, but said that
if they stop importing, someone else will take over the imports in stead.
Impact is from recently
part of the Swiss based Ameropa
.
All photos below are taken by Glenn Towler in Hobart harbour. Click on photos for high resolution.
1) Niki T
The last vessel was Niki T, which arrived downstream from Hobart on the 04/05/08, she relocated to the Wharfs at the Nystar plant upstream at Risdon on 05/05/08 at some stage in the early hours of the morning.
The Niki T was then on charter to Pacific Basin Shipping of Hong Kong. Pacific Basin have delivered a number of shipments of Phosphate to Risdon from the Western Sahara also.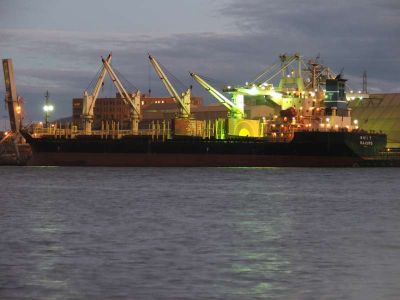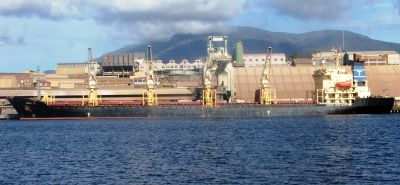 Other shipments of Phosphate delivered to Tasmania from the Western Sahara:
2) Mediterranean ID
Arrived 13th of January 2008.
3) Cape York
Arrived 5th of December 2007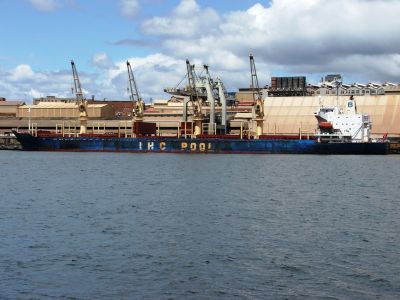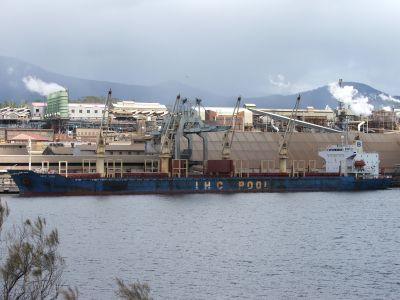 4) Enterprise
Arrived 1st of July 2007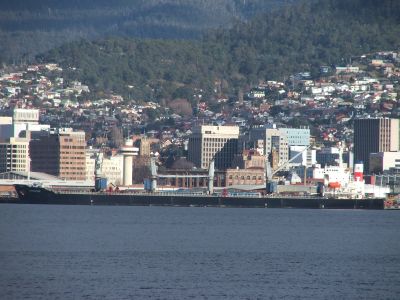 5) Doric Pride
Arrived April 2006
6) New Laurel
Arrived 19th of December 2005
New Laurel first arrived in Fremantle on mainland Australia, with phosphate rock. The importer Wesfarmers has a plant there. Then she continued to Tasmania.