Even more wind farms are being planned in occupied Western Sahara, and all of them are in the portfolio of the Moroccan monarch's company NAREVA.
The share of Morocco's wind energy projects in Western Sahara is far larger than what has previously been known. New calculations by Western Sahara Resource Watch estimate that by 2020, a staggering 40% of Morocco's wind production will take part on occupied land. Most of it is controlled by the company of the Moroccan king himself.
In December 2016, Morocco's national electricity agency issued a tender to install a very high tension electricity network in "southern Morocco" - the Moroccan terminology for what is in fact Western Sahara; a territory largely and illegally occupied by Morocco since 1975.

The programme will link two wind farms that were at that time still in the planning phase: the Aftissat plant (200 MW) and the Boujdour farm (400 MW). Both projects will be carried out by Nareva - the energy branch of the royal holding company SNI. And both farms will thus be built in occupied Western Sahara.

Work on the Aftissat plant is already ongoing, as UK company Windhoist is at present erecting 56 Siemens wind mills.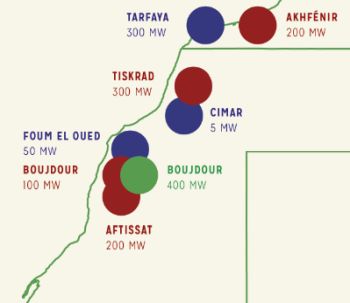 These two new plants will add to the two other wind farms that Nareva is constructing in the occupied territory as part of the "integrated wind power project": a programme that includes the construction of five wind farms with the cumulative capacity of 850 MW. Two of those five farms are located in Western Sahara. One of them, a 100 MW farm, will also be built in Boujdour. The other 300 MW wind farm is planned to be constructed in Tiskrad, a town near Western Sahara's capital El Aaiún. The 850 MW programme was accorded to a consortium of firms led by German giant Siemens, who had teamed up with Italy's Enel Green Power and Nareva.

The Moroccan king's wind firm isn't the only one trailblazing the highly controversial wind energy plans in occupied Western Sahara. Up to now, Siemens has a stake in practically all wind farms in the territory:
Siemens supplied wind mill parts for the operational 50 MW Foum el Oued park;

Together with Enel Green Energy and Nareva, Siemens won the tender for the construction of the 300 MW Tiskrad wind farm and the 100 MW Boujdour farm.

Siemens is providing the parts for the construction of the 200 MW Aftissat wind farm.

So far, WSRW has not been able to link Siemens to the 400 MW wind farm which is in the works for Boujdour.

With the new planned wind farms in Boujdour, the share of the production in occupied Western Sahara out of Morocco's total wind energy production, will rise to over 40%.

In November 2016, WSRW released the "Powering the Plunder" report, documenting Morocco's wind energy plans in Western Sahara. That report did not include the Aftissat wind farm or the 400 MW Boujdour wind farm. At that time, it could be calculated that by 2020, Western Sahara's share out of Morocco's total wind energy production would be 22,5% (450 MW out of a total of 2000 MW; comprising of operational, planned and under construction wind farms). Now including the two new farms near Boujdour, that share will go up to 40,3% - as there appear to be no new plans in Morocco proper (latest available data from June 2017).