The US company FMC Corp is said to have sold its 33,3 percent ownership in the Venezuelan company Tripoliven which imports phosphates from Western Sahara.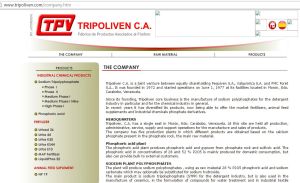 For decades, FMC Corp played a key role in the imports of phosphate rock from occupied Western Sahara. These purchases were done by its fully owned subsidiary FMC Foret in Huelva, Spain.
In 2010, its plant in Huelva closed down, and the company thus
stopped its direct import to Spain.
However, the company's involvement with Western Sahara phosphate did not terminate fully. During at least the last decade, FMC Corp has also owned 33,33% of a joint-venture in Venezuela, Tripoliven, in partnership with the Venezuelan government and a private investor. Tripoliven has imported phosphates from Western Sahara for decades.
That FMC stake has now been sold, from what Western Sahara Resource Watch has learned. WSRW sent requests to the communications department of FMC Corp on 19 March and 2 April 2016 to get confirmation of the information, but has not received any answer. Particularly, WSRW has asked for information regarding who took over the shares.
The
website of the Venezuelan joint-venture
still refers to FMC Corp as a 33,33 percent shareholder (see screenshot above. "Tripoliven C.A. is a joint venture between equally shareholding Pequiven S.A., Valquímica S.A. and FMC Foret S.A", the website reads . This is thus now apparently wrong.
Tomorrow, WSRW will issue its report
P for Plunder 2015,
outlining the exports of phosphates from Western Sahara over the course of last year. The Venezuelan government is the only foreign government involved in the imports of Western Sahara phosphate rock, both to subsidiaries in Venezuela and in Colombia. Tripoliven has in the past
lied to WSRW
regarding the trade, stating they do not import, while in fact they do.
Fewer and fewer multinational companies are involved in the trade of the controversial rock.
Morocco has occupied parts of Western Sahara since 1975, and the exports of phosphate rock contributes to the legitimization and financing of the annexation.