The World Bank seems to assist Morocco in promoting renewable energy projects in the occupied Western Sahara, as it fails to distinguish between the territory of Morocco and the Non-Self-Governing Territory.

Read also: World Bank removed erroneous maps
Earlier this month, on 12 May 2020, the World Bank published on its webpage a map depicting the offshore wind potential in Morocco [or download]. The map, titled "Offshore Wind Technical Potential in Morocco", was accessible via a portal site entitled "Going Global: Expanding Offshore Wind to Emerging Markets (Vol. 57): Technical Potential for Offshore Wind in Morocco – Map (English)" [or download].

Exactly three minutes later, a completely identical portal site was published, only this time with a remarkable difference in the title: "Going Global: Expanding Offshore Wind to Emerging Markets (Vol. 58): Technical Potential for Offshore Wind in Morocco with Western Sahara – Map (English)" [or download]. Here too, a map can be downloaded, and though carrying the exact same title as the map available on the other portal site - "Offshore Wind Technical Potential in Morocco" - this map shows Morocco as including Western Sahara [or download].

See the two different maps here, side by side;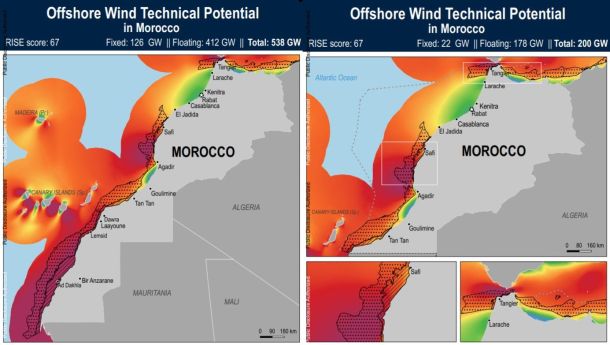 Not only do the two maps differ in terms of the depicted territories, they also include different statistical data. Whereas the offshore wind potential for Morocco is totalled at 200 GW, that number increases dramatically to 538 GW when including Western Sahara - revealing the massive importance of Western Sahara for Morocco's renewable energy potential.

The identical abstract that is included on the two portal pages refers to a single source for the maps and their data:
a research study published by World Bank Group in October 2019, titled "Going Global: Expanding Offshore Wind to Emerging Markets". The version of that study that is available on the World Bank's webpage - bearing the marker "Public Disclosure Authorized" - contains information on the offshore wind potential of eight countries, including Morocco. The information contained in the study - or at least in the version that is available to the public - correctly represents Morocco's international borders. A table on page 30 of the report even explicitly states that the included data for Morocco is "excluding disputed territory". This disclosed copy can thus not be the source for the map that lumps Western Sahara in with Morocco.

Western Sahara Resource Watch (WSRW) has sent a letter to the World Bank to enquire about the two maps and about the source for the info on Western Sahara's offshore wind energy potential. WSRW requested the World Bank to remove the false maps that do not align with the United Nations' view of the territory.

The approach by the World Bank of having two different portals and maps dedicated to the offshore wind potential of "Morocco", is surprising. In 2014, after WSRW's publication of one of its reports on Morocco's renewable energy projects in occupied Western Sahara, the World Bank had responded to questions by the Reuters that it would not invest in such projects in the territory. A position shared by other multi-lateral lenders such as the European Investment Bank and the German development bank KfW.