Moroccan national authorities wishes to build electricity infrastructure in Dakhla, occupied Western Sahara.
In an ad in today's issue of Financial Times, the Moroccan state electricity company Office National de l'Electricité invites for a tendering round for building a 500 MW solar installation in Dakhla.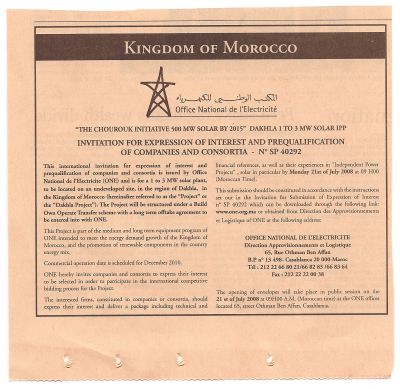 ONE claims Dakhla to lie within "the Kingdom of Morocco". No state, however, recognises this area as Moroccan. The area is considered as occupied by the UN.

The tender is thus opened for infrastructure work on occupied land. The operation date is set to December 2010.

Western Sahara was occupied by Morocco in 1975, in violation of international law. The International Court of Justice had at the time decided the Moroccan claims to the territory was unfounded.