The French company Alcatel has been observed working on the telecom cables into the occupied territory.
Morocco continues the work to install telecom fibres into Dakhla in occupied Western Sahara.
Since 31 May, the vessel Ile de Molène crisscrossed the waters to the northwest of Dakhla peninsula.
First, a stretch of 2.65 kilometers was covered from 31 May to 3 June 2023, making stops every 70-100 meters, at a distance of 17 to 36 kilometers from the Dakhla port. From 6 to 10 June, after a brief trip to Las Palmas, the ship undertook a second round offshore Dakhla, 36.8 kilometers from the coast, stopping every 70-400 meters.
It is likely that the cable work is related to the connection of Dakhla to the "West Africa" submarine cable of Maroc Telecom laid in 2021, perhaps as some sort of maintenance. The 8,600 kilometer long cable from Morocco to Gabon has a handful branches to the mainland along the way, including to Dakhla.
The Ile de Molène (IMO number 9329928) is a French-flagged cable laying vessel that used to operate as a supply ship. The ship is operated by the Alcatel company ASN Marine SASU, managed by Louis Dreyfus Armateurs SAS and insured by the Norwegian company Gard.
Since the works kicked off, the vessel has made one trip to Las Palmas port on the Canary Islands, before returning. It has not been possible for WSRW to identify what the ship did in the port in Las Palmas.
WSRW wrote in April 2021 of similar cable works undertaken in the same waters, by the vessels Peter Faber (IMO 8027781) and Ile de Brehat (IMO 9247053), in the same ASN fleet. On 14 April 2021, a letter was sent by the French association APSO, the Finnish Peace Committee and Western Sahara Resource Watch (WSRW) to Alcatel, with copy to Nokia. The company never responded. From what WSRW understands, the Western Sahara republic wrote a protest letter to Alcatel in March 2021.
Alcatel Submarine Networks SpA is partially owned by the Finnish telecom giant Nokia.
This part of Western Sahara near Dakhla has remained under foreign Moroccan occupation since 1979.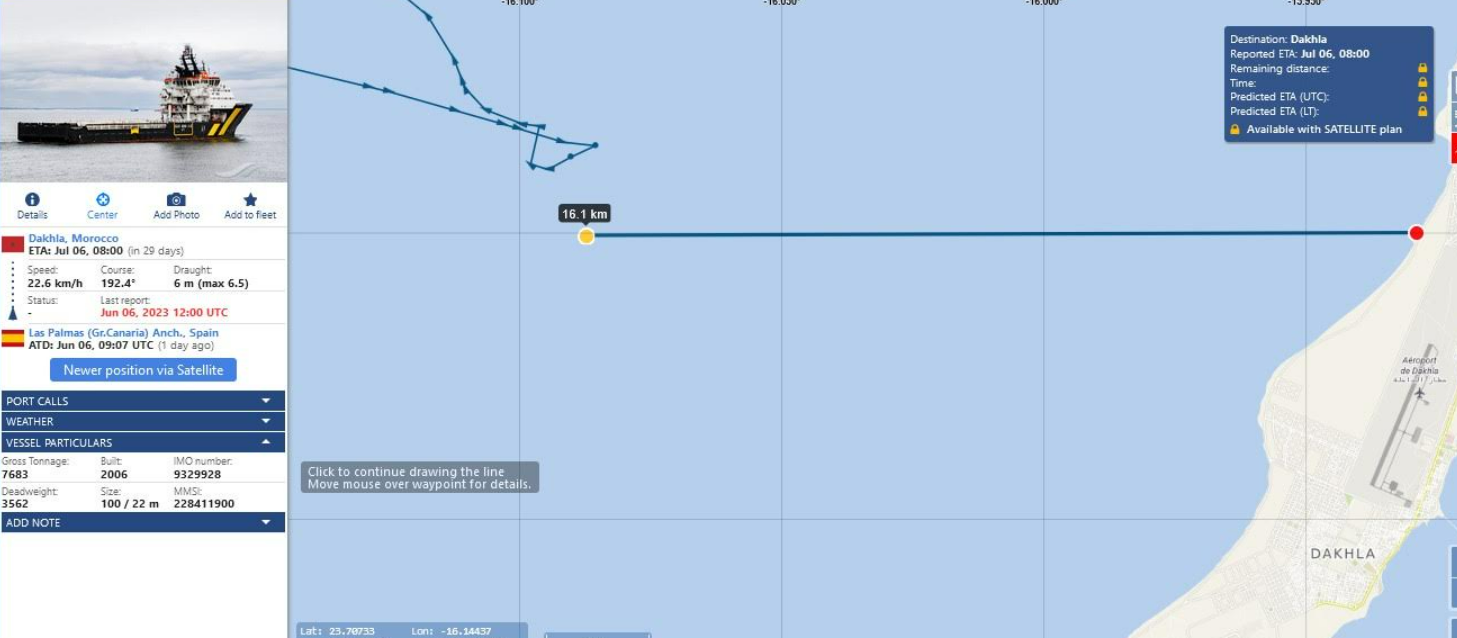 Since you're here....
WSRW's work is being read and used more than ever. We work totally independently and to a large extent voluntarily. Our work takes time, dedication and diligence. But we do it because we believe it matters – and we hope you do too. We look for more monthly donors to support our work. If you'd like to contribute to our work – 3€, 5€, 8€ monthly… what you can spare – the future of WSRW would be much more secure. You can set up a monthly donation to WSRW quickly here.