The UK/Irish company San Leon is planning to drill in Western Sahara in a few weeks from now, even though UN says further exploration is illegal. WSRW condemns the plans.
Read also: Western Sahara is part of Morocco, San Leon states before drilling
Published 09 July 15
San Leon Energy on 2 July 2015 announced in a press release it had entered into an agreement with a the company Entrepose Drilling to carry out a well "in Morocco". In fact, the operation is to take place in the neighbourhood of the capital city of occupied Western Sahara, El Aaiún.

The well, called "El Aaiun-4" is expected to be drilled in August 2015, according to a press release from the company. According to the company, the well is "approximately 14 Km from a gas market (El Marsa OCP phosphate processing plant, near Foum el-Oued", and the well will be in total 2000 meters deep.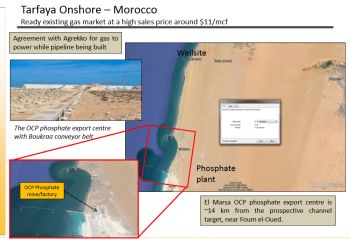 Maps on the company website place the well just on the coast of El Aaiun, 14 kilometers north of the phosphate harbour. See San Leon map to the right. [click for bigger version].

As WSRW has warned before, a possible gas find by San Leon would make the phosphate plunder even more lucrative, as Morocco's state oil company needs energy for its illegal operation of the phosphate rock industry in the territory.

The company states it has "significant potential" and that further similar wells could be made. The company has consistently claimed that its licence is within "Morocco", and does so also in the press release regarding the drilling.

The company is based in London and has never responded to letters or media requests, with one exception: In an interview with Irish TV station RTE, a company representative stated it does not need to pay attention to the Saharawis, as "they are not representative".

The UN legal office stated in 2002 that any further oil exploration would be illegal if the people of the territory does not consent to it. No state in the world has recognised the Moroccan claims to the territory.

This will be the second drilling for hydrocarbons in Western Sahara under Moroccan occupation. The first was undertaken by Kosmos Energy from December 2014 to February 2015, offshore. Kosmos has stated that it wishes to drill more.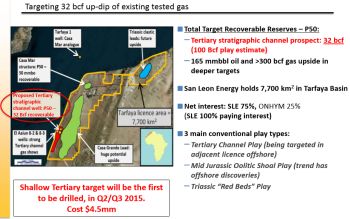 "Western Sahara Resource Watch condems San Leon's operations. We expect more from a UK/Irish company than a blind support to the occupation of this territory. San Leon needs to take into account the wishes of the people of Western Sahara and start respecting international law. It must immediately withdraw from this operation. San Leon fundamentally undermines the UN peace process in the territory", stated Erik Hagen, a campaigner in Western Sahara Resource Watch.

Further information about San Leon's drilling plans are also available on a company presentation issued by the company on 31 May 2015. San Leon has held rights for oil exploration in the occupied territory since 2006. Find articles from the last 9 years by searching for 'San Leon' our website.

The company to undertake the drilling operation, Entrepose, is part of the French Vinci Group.