The German multinational cement giant HeidelbergCement owns a cement factory in Western Sahara. WSRW enquires about who gave the company permission to operate in the occupied territory.
Above: HeidelbergCement's plant in occupied Western Sahara. Photo: Mohamed Dchira. Download high resolution.

A few kilometers outside of the capital city of Western Sahara, a subsidiary of HeidelbergCement is operating a cement production plant. The factory is owned by Ciments du Maroc (CIMAR), which in turn is part of the German multinational via an Italian subsidiary, Italcementi.

Western Sahara Resource Watch (WSRW) on 1 March 2018 sent a letter to HeidelbergCement, enquiring about whether it had obtained consent from the representative of the people of Western Sahara to operate in the occupied territory. WSRW also asked questions regarding the company's clients and policies.

WSRW already on 20 October 2016, 19 February 2017 and 5 December 2017 contacted HeidelbergCement's subsidiary Italcementi, which is in charge of the operation. No response was received. WSRW also sent a letter to Italcementi's former subsidiary Italgen on 19 October 2016, without obtaining a response. Italgen has built the energy infrastructure associated to the CIMAR factory, opened in 2011 by the secretary-general of the Moroccan Ministry of Mines.

HeidelbergCement and its subsidiaries systematically place the El Aaiún cement factory in the wrong country. See website of HeidelbergCement itself [or download] or on CIMAR's website [or download].

The company even locates the capital city of Western Sahara in the "Southern Provinces" or the "provinces Sahariennes" which is Morocco's narrative of describing the territory it holds under illegal occupation.

On all maps on HeidelbergCement's website, Western Sahara is illustrated as being part of Morocco. No country in the world, nor the UN, consider Western Sahara as part of Morocco. The Court of Justice of the EU in a ruling on 21 December 2016 clarified the status of the territories of Morocco and Western Sahara to be "distinct and separate". The Advocate General of the court on 10 January 2018 elaborated further on the status of Morocco in the territory as an occupying power, underlining that international humanitarian law applies.

The illustrations below are from the latest annual report of Ciments du Maroc of 2016 (page 7 and 23).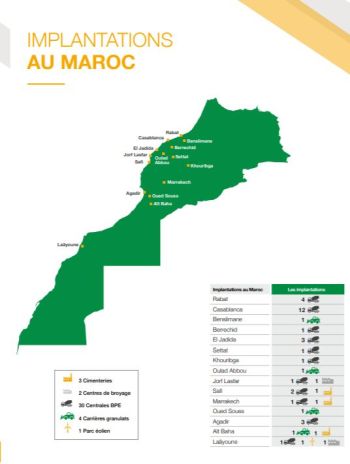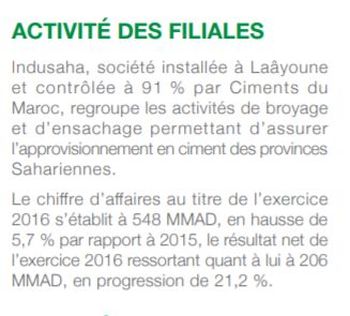 Download other high resolution images of CIMAR here (shall be credited Mohamed Dchira)
Photo 1
Photo 2
Photo 3
Photo 4
Photo 5